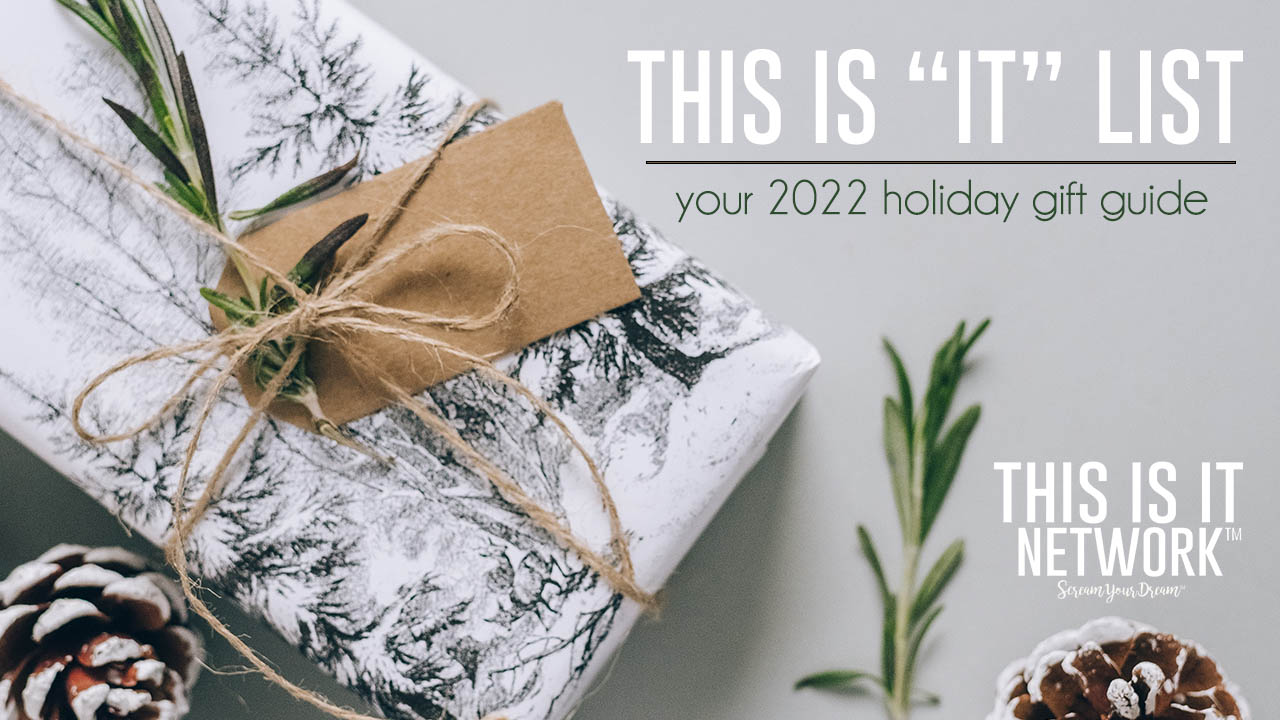 HOLIDAY THIS IS "IT" LIST 2022
As Thanksgiving approaches, shopping is soon to be on everyone's radar. Which means that it's time for a game-plan when it comes to picking out those special purchases for your loved ones (and yourself). Thankfully here at THIS IS IT NETWORK™, we have curated a specialized gift guide that will leave you with no shortage of gift ideas that are splurge worthy and satisfactory! Browse our top picks in each of our six categories, including Art + Entertainment, Business + Tech, Fashion + Beauty, Food + Drink, Home + Travel, and Wellness + Sports. . Keep an eye out for some promotional offers as well to keep that holiday shopping on budget!
---
Art & Entertainment
How wholesome is this book?! Here at THIS IS IT NETWORK™, we are all about spreading love and positive vibes. If you have a friend or family member that you want to send special love to this holiday season, look no further because this book will certainly put a smile on their face. Inside this special book, you'll find 365 days of inspirational quotes, so feel rest assured that your loved one will be set with doses of positivity for the rest of the year.
Ornaments are essential during Christmas time, and we love this adorable one from Mud Girls Studios. This is an incredibly sweet present for anyone in your life, but we think that this would be a particularly special gift for anyone who just moved or is settling into a new home.
Magazine subscriptions are an incredibly thoughtful, yet extremely underrated present to gift. That's why we recommend a one-year subscription to Bella Magazine for the fashion and beauty lovers in your life.
We LOVE this app! To put it simply, Rallie is an app that gives you spontaneous date ideas that are ten miles or less from your current location. This is a lifesaver for last-minute day-trip ideas or excursions.
When the adorable crafts that your kids bring home from school are too perfect to store or throw away, transform them into something with a bigger purpose! Print Art Kids allows you to turn those arts and crafts into personalized puzzles, stationary, cards, labels, and more. It's the perfect sentimental gift!
Who doesn't love arts and crafts? Especially when you're doing them with someone you love. For those who want a chill night activity with a significant other, family member, or friend, this is the gift for you! Plus you get to keep your handmade creation after this night of fun!
If you're looking for a gift for your significant other, look no further! This Personalized Paint by Number kit (based on a submitted photo) is incredibly sweet while also giving you an excuse to plan an adorable date night.
Calling all girl bosses… If you or someone you know has their own business that needs some social media elevation, now is the time to book a 60-Minute Business Branding Portrait Session with notable, NYC-based photographer Sam Popp! During this session, Sam will listen to your marketing needs and help create a portfolio of lifestyle portraits that will align with your promotional goals. This will take your business to new heights!
Sometimes, all you need is a relaxing night with your BFF, and this gift is the perfect excuse to grab your bestie and make some candles! (How cool is that!) This event is also BYOB, so be sure to pick a date soon and spend a fun night candle-making.
Have you ever wanted to learn how to play an instrument, but have no idea where to start or how to begin learning? Well, Lessonface is here to solve all those problems! This platform is like Skillshare, but for just music, and for 10+/mo you'll get access to masterclasses from world-renowned instructors. You seriously can't go wrong.
---
Fashion & Beauty
Hair oils are all the rage right now, and we can't help but love this one from Ishq Skincare! This Leave In Hair Oil is infused with papaya and pomegranate extracts along with baobab and jojoba oils that work together to control frizz without weighing down your hair. Enjoy effortless locks with this magical product!
A good outfit sets the scene for any occasion- especially sporting events! If you or someone you know happens to love basketball, this flattering Cotton Sweater from Chamberlain Brand is the gift for you!
You have to love a cute and stylish, yet comfortable hat during the winter months. That's why we LOVE Big Bobble! These incredible hats are perfect for any occasion- on an adventure, or an evening out. We can't get enough of these!
Chemo Cozy was designed with the intent to provide patients with a better experience during their treatments. If you or someone you know is undergoing chemotherapy, these practical and incredibly comfortable fleece jackets are perfect to wear during infusion treatments.
Body soufflés from Lamb and Honey are luxurious and feel great on the skin, that's why we couldn't be happier to share that you can get a trio for only $55. Self-care done right starts with products from Lamb and Honey!
We're in awe of these gorgeous headscarves from Krysalis Kouture. Fashion designer and three-time cancer survivor, Paloma Soledad, created these to regain some normalcy while undergoing treatment. These scarfs are multi-functional and make those wearing one feel glamorous, beautiful, and confident! With their special design of extra fabric in the back, they make a wonderful gift to help your loved ones feel like their best selves.
We always love a good makeup bundle, and this one from Embellish Beauty is no exception. It includes lashes, lash glue, three lip glosses, mascara, and blush. These high-end products are destined to make you feel your best.
AnaOno Intimates are unique because they embrace different breast shapes and surgery outcomes. For those in your life that may have undergone breast surgery or are in the process of any kind of recovery, these bras are the perfect gift to show just how much you care.
For your manicure-loving-friends, this nail kit is the most adorable gift. Included inside are bows, nail stickers, nail polish, and unicorn pen. All products are chemical-free, making them safer and healthier for your little ones!
---
Food & Drink
This delicious plant-based pattiecuterie is the savory twin to Dr. Brownies Browniecuterie boards. Inside, there are plant-based fillings such as veggies, impossible meats, and soy curry "chicken." Let's just say that if you purchase this, you'll certainly be the hit of your next get-together.
If you're a cocktail lover, Top Dog should be the first on your list of alcoholic beverages to purchase. Currently, Top Dog has four flavors including a Whisky Lemonade, Greyhound, Blood Orange Margharita, and Peach Mango Tea. These flavors are really the best of the best. This subscription-based Cocktail Club delivery program will be sure to bring you the best-tasting experience right to your door.
Wine tastings are always a good idea, especially if you happen to check out a New Jersey winery. Plan on inviting over your best girlfriends for an outing filled with fun at one of our beautiful vineyards across the state!
These Olive Oils are one of a kind- which makes this set from Olivo Amigo the best gift for a loved one that enjoys cooking. We love that The Vida Collection includes complex aromas with unique spices that set any dish apart from the rest.
We can't talk about cocktails without including our favorite mocktail in the mix! This delicious, non-alcoholic beverage is reminiscent of your favorite crafted cocktail, just without the booze. Made with a blend of crisp cranberry, zesty lime, and a splash of natural orange juice, this drink will keep you happy all day long.
Veggie Bootcamp is a unique package available for those who want to start their culinary journeys right away! Included are 15 of Chef Sherimane's recipes which provide individuals with recipe cards accompanied by grocery lists to ensure that they get everything they need to prep these healthy meals. For your health-conscious friend, this gift is a no-brainer.
Desserts are a girl's best friend, especially if the dessert in question has chocolate in it. These brownies from Dalci are gut-friendly and ideal for those that experience chronic pain. The flavors included in this pack are dark chocolate, almond butter, lemon coconut, and apple spice. We never thought it was possible for something this healthy to taste this good, but Dalci proves us wrong!
Oat Haus has mastered the world's first oat-based spread, and we are so excited to share this brand with you! With the Build a Box package, you'll get a variety of oat spreads to choose from that you'll easily become addicted to overtime!
Bundt Cakes are one of our favorite sweet indulgences, so we cannot wait to get our hands on the Triple Tiered Bundlet that includes three tiers of bundt cakes in one festive package! What's even better is that you can customize the cake flavors to your liking, so you can have your choice of any of these delicious flavors.
Inspiro Tequila is nothing short of elegant, and incredibly delicious. We all know that Tequila isn't suited for everyone, but Inspiro proves to be sippable on it's own! Inspiro is additive free with 100% Blue Weber Agave, which makes this tequila our go-to!
---
Sports & Wellness
We know how busy life can get for all of the remarkable women out there! The FitGO Bag makes it easy to fit a quick workout in anywhere you go. All the essentials for a full-body workout are bundled in one portable bag. Each FitGO Bag Includes: 3 Resistance Bands, 1 Resistance Cord with Handle, 2 Dual-Sided Sliders, 1 Booty Band. Here's to a new year of convenience and self-care!
This Mindful Morning study group's purpose is to help you expand the perfection within you. Karem Zafra-Vera teaches us that every human being has access to a power greater than him/her/their self. This means "YOU". However, it requires you to show up like you've never shown up before. Join Karem Zafra-Vera in her Mindful Morning Study group sessions as a gift to yourself or share this awakening experience with someone important in your life.
As powerful females, sometimes we need a reminder to intentionally connect with ourselves and tap into the feminine power within and around us. This is a collection of inspirational prompts and journaling to help connect with your body, shift your perspective of pleasure, learn about sisterhood, and grow closer to your divine femininity. With this special collection, you will begin to level up and transcend into a new way of thinking. Share with the remarkable women in your life!
Self-Care is revamped and connected with the moon cycle for optimal pleasure! We are obsessed with Healistic Reserve's Lunar Bath Ritual Subscription Box. It recurs on a 3-month basis, according to our climate seasons (Spring, Summer, Autumn, Winter). Within the three months, recipients receive everything they need for a bath ritual for every major lunation (New Moon, First Quarter, Full Moon, and Last Quarter). This is the perfect gift for anyone in your life who struggles to find time for their own self-care and relaxation.
The world of CBD can get confusing. After exploring, we have found the perfect gummies! Commons Co ensures that you are informed about what goes into their products, along with what the benefits will be. These watermelon-flavored gummies are made for whenever you need to recalibrate. With no active ingredients outside of CBD, you can take them morning, noon, or night. Each gummy has 10mg of CBD isolate and they are sure to make the perfect stocking stuffer!
Natural and effective products are our favorite kind of gifts this holiday season. This salve contains not only CBD, but magnesium too, which makes this your ultimate pain reliever. Working in harmony and made of all natural and organic ingredients, its thick consistency will provide hydration with little to no grease.
Ashwagandha (commonly called Indian Ginseng) is one of the most highly prized botanicals in the ancient Ayurvedic system of India. It is often described as an "adaptogen" because it helps the body successfully adapt to stressful conditions. When used regularly over time, Ashwagandha helps combat stress and provides numerous benefits for the body and brain. YouTheory's individual packets have made it so easy for us to keep our stress levels under control! Try it out for a stress-reduced 2023!
Bee & You offers a variety of products to assist your body in working at its best through every season! This wellness set promotes healthy energy levels, soothes cold symptoms, and naturally supports collagen production in the body all through the power of our planet's bees. We have been loving this family set as it takes care of a variety of needs for ourselves and the support system around us!
Meet your new can't-leave-the-house-without-it essential. The Sloane Tote was designed with style for everyday use and function for your next gym trip. The features we love? A sleek and discreet yoga mat sleeve, laptop holder, and easy-to-access pockets.
This adorable roll-on is an essential stocking stuffer! MOOD BOOST is essentially aromatherapy for your mood (And yes, we can't get enough of it). Essential oils, when used as aromatherapy, activate the olfactory nerves in the nose which travel directly to the emotional center of the brain. These oils can be used to promote health and well-being throughout those busy days, or when you are looking for a quick "pick me up"!
---
Home & Travel
2023 is the year of getting organized! The Time Power Family Calendar is a jumbo-size, dry erase, family calendar designed by a parent and time management expert! It is a simple and fun way to tame the chaos and overwhelm while bringing your family closer together. Honor your time, find the beauty in every moment.
We are all about sharing the love of sustainability! Everything stays beautifully in its place with this all-natural jute tote filled with LooHoo Wool Dryer Balls and a SoulShine Soap Company stain remover stick. Fill with your choice of colors to complement your room's décor or add a spark of color where needed. Treat friends and family to this gift that fits any laundry space.
Designed, woven, and sewn in Pennsylvania with naturally whitened 100% organic linen/hemp blend fabric…These are a kitchen staple for us! These lovely towels are made with Italian hemp and French linen yarns gently whitened with peroxide and/or boiling, resulting in a natural white hue making them both beautiful and sustainable. They will make the perfect gift for anyone in your life looking for a touch of luxury in their cooking space!
Help the PA Flax Project grow the magic! They offer a handwritten and heartfelt thank you note on handmade paper plus a packet of flaxseed and instructions for planting your own tiny flax field, just enough for a fairy to frolic in! If you or someone in your community has a green thumb, this interactive experience will make the perfect gift this year! Check out PA Flax Project for more information as well!
Searching for the perfect family gift? We have found it! "Connected" is all about teaching kids and their families how to navigate their emotions. It is a practical guide to understanding powerful concepts that alleviate the stress and challenge in tough situations. The book also includes tools and tips to help children become advocates for their mental and emotional well-being in productive ways, as well as thought-provoking questions to encourage young readers to think about how these tools would be uniquely relatable to them. Written to inspire children to become empathetic leaders and creative solution-seekers, "Connected" is a book that helps them not only understand themselves better, but also those around them.
Our team knows that holiday cheer comes directly from holiday candles. We have been going though these like crazy since we found them! Collier's Candles Co offers burning soy candles free from toxins AND scented with perfect blends of holiday staples. Browse a variety of scents offered in two sizes at Collier's Candles Co!
Looking for a unique gift this year? Postal Petals is a hand-delivered, subscription service that includes a bundle of beautiful and varying flowers. For your creative friends and family, this box provides the creative freedom to arrange however you like! Show them you care with a box of beautiful bouquets delivered to their door every week, every other week or every four weeks.
We have learned that decluttering your house = decluttering your mind. Give someone you love the gift of clarity and peace with a professional organizing service. If local to you, we can't recommend Clean House Tink enough! Specializing in helping busy parents and professionals declutter and organize their homes, Tink can help you conquer your cupboards, tidy a room or tackle your whole house.
Whether you're looking to run away for a weekend, or escape reality for a couple of weeks (or a whole month!), Chloe Johnston's global team of travel concierges will fulfill your wanderlust—and your lust for luxe. It doesn't matter if you are gifting to yourself, your team, or the one's you love – This amazing service will help to create your ideal oasis.
For your loved one who's already planning their next trip…This NOMO Travel Set has them covered! With Eau Fraîche Shower Gel and Body Crème in a TSA- approved and reusable pouch, this set is perfect for traveling. It may even be the perfect excuse to book that flight and take a needed vacation. (We are feeling tempted!)
---
Business & Tech
In this groundbreaking book, spiritual business strategist, Candice Hozza, reveals why intuition and alignment are actually the most powerful factors in your business. We have learned so much from this remarkable woman and we know you will too! Through her proven system for up-leveling, you'll learn how to tap into your deep inner knowing, clarify your Soul Values, and follow your WOO – your Windows Of Opportunity – to the next level of success, abundance, and joy.
For your business savvy friends, this is the perfect gift to keep their momentum moving through 2023! InvestHER Academy teaches new and established entrepreneurs how to think like an angel investor to improve their pitch in order to reach their funding goals and have a profitable exit. With this course, you will be giving the gift of learning about all types of investing and helping your friends/family find the path to the wealth they desire!
Wanna know the secret to becoming a Thought Leader in the Media? Is there someone in your life who is looking to advance their career? Here are Beth Nydick's 9 steps to media success. Pitch Secrets is the perfect (and very affordable) gift to assist your community in reaching new heights!
Call Spots is an amazing company started by two anxious Parents who wanted an easy way for other people to contact them in case of an emergency or issue related to their child, spouse, or grandparent. Now they are used to keep track of everything from playful children to expensive tech toys and other valuable items. They also make the perfect gift to connect with those around you! Browse the variety of uses Call Spots provide and place an order for these awesome stocking stuffers today!
Through this book, luxury fashion mogul and social activist Rebecca Minkoff shares her own stories and teaches you how she was able to reach her goals to become the successful fashion designer she is today. We read this TOO fast…Definitely a must read to share with your business-savvy or fashion-loving friends this holiday season!
In Simple Choices Big Rewards in Money, author Ramona Cedeño shows us that financial freedom is not out of reach and does not mean living a life of limitations. As a finance expert and the CEO of FiBrick, Cedeño has over twenty years of experience in planning, learning, and growing through financial wellness. With this book, you will be gifting your friends and family a guide to learn how to develop a positive money mindset, how to make and maintain healthy money habits, and how to build the best village to support their money goals.
Do you know some remarkable mommas out there? We know the list probably goes on forever! Hey Mama is a membership-based professional networking group for moms that connects mothers who are growing careers and families. The juggle is real. Hey Mama is there to provide you with a community of women and experiences to propel you forward. Give the gift of connection and support this year!
In "Made to Sell: Creating Websites That Convert" Ari & Peter peel back the curtain to reveal tips and tricks to transform your website, and in turn, your brand and revenue. Whether you have a simple one page site or a complex retail store with thousands of products, they will show you how to move from a pretty store front to a powerful marketing tool. We love this gift for the tech savvy champions in your life!
A personalized portfolio adds the luxurious feel that you deserve into your workspace. With a variety of colors and styles, this is a special gift that will be used for years and years to come. Shop for a friend or gift it to yourself–Your ideas and thoughts deserve a personalized place to go!
When we tell you we never want to take this off, we are not joking! This all in one wearable device provides precise heat paired with vibrations to soothe pesky back pain. We know how hard it can be to sit on your computer or even running around all day. Give the gift of relaxation and soothe those body aches all day long!