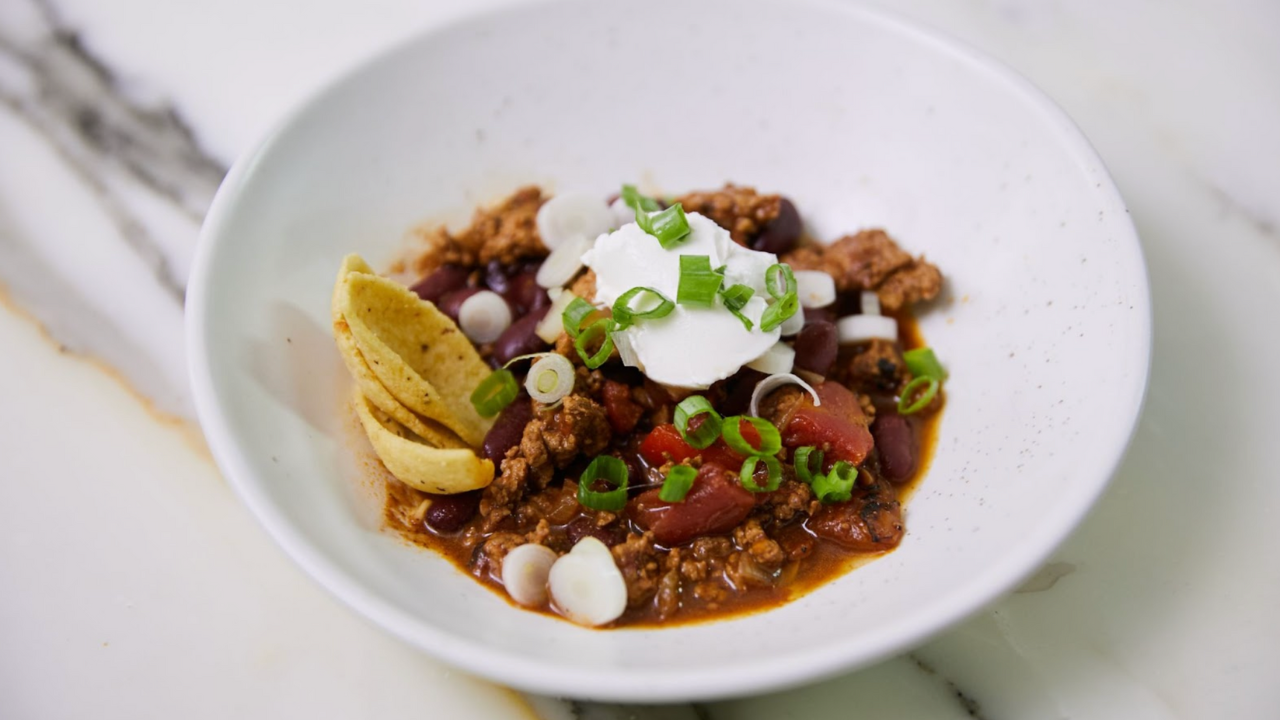 The ULTIMATE Turkey Chili Recipe
{By: Jessica Gershman} Fall weeknight Turkey chili
Serves 8-10
There is nothing more comforting than a bowl of hearty chili when the temperature drops. Top it with your favorite toppings
Ingredients:
1 tablespoon olive oil
2 pounds ground turkey, white and dark combined
2 cups coarsely chopped onions
2 tablespoons chopped garlic
1 large sweet red pepper, cored, deveined and coarsely chopped
1-2 peppers chipotle peppers in adobe sauce – finely chopped
1 tablespoon fresh oregano, chopped, or 1 tablespoon, dried
2 bay leaves
3 tablespoons chili powder
2 teaspoons ground cumin
1 teaspoon cinnamon
1 tablespoon of tomato paste
3 cups canned diced tomatoes
1 light beer like corona light
Juice of 1 lime
1oz dark chocolate or cocoa powder (unsweetened)
1 cup of chicken broth
Salt and freshly ground pepper to taste
2 15-ounce cans of red kidney beans, drained
Fresh green onions sliced (optional)
1 cup DF sour cream like Tofutti
(optional)
Corn chips (optional)
Directions
Saute onions and red pepper in olive oil over medium heat, once softened add garlic and allow to cook until fragrant (about 30 seconds) Add ground turkey. As it cooks carefully break up the meat into medium chunks. Be careful not to dice the turkey up too fine or the consistency will be off.
Once the turkey is no longer pink, add the dried herbs, adobo chilis and tomato paste. Cook until the mixture is all a deep red color. Add the beer, tomatoes, lime juice, chocolate, and chicken broth. Season with salt and pepper. Bring to a boil and reduce to a simmer until most of the liquid is reduced and mixture is thick.
Off the heat, fold in the beans. Add toppings. Enjoy!
Can be refrigerated and best served the following day. For weekly conversations on women's health plus mindfulness and meditation tips check out the Zen(ish)Mommy Podcast or go to www.thezenmommy.com