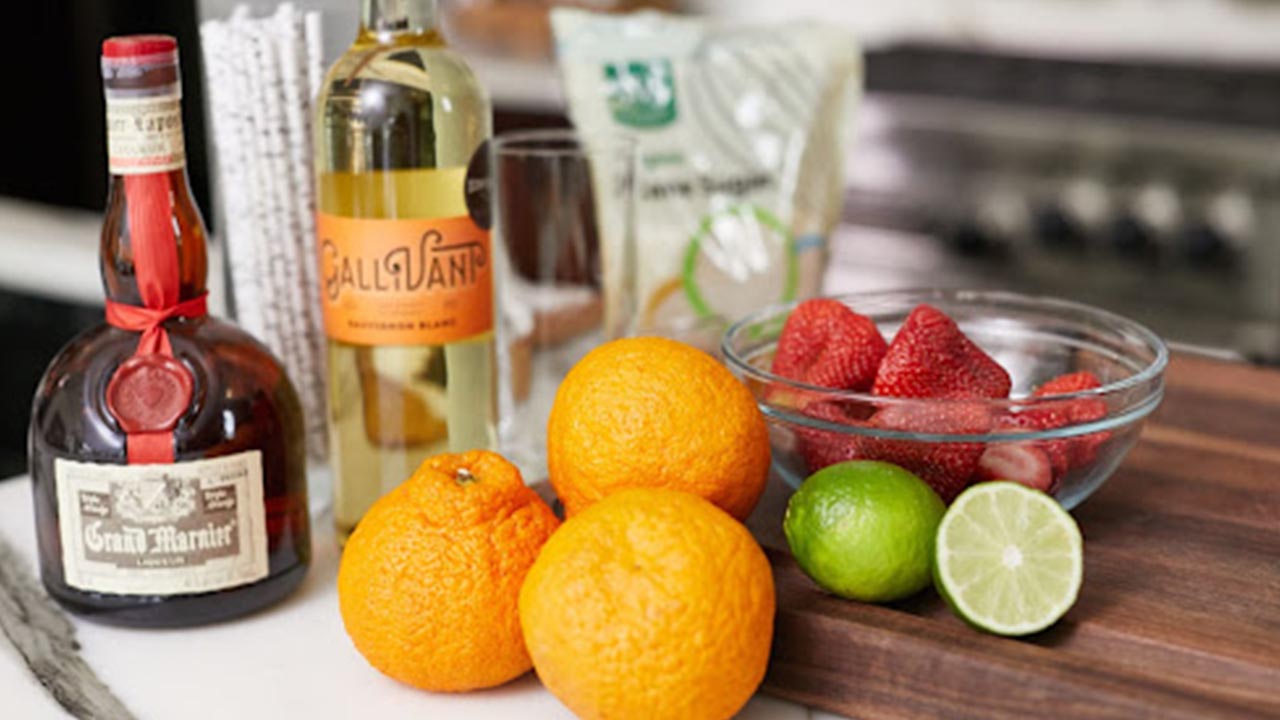 Summertime Sangria
{ By Jessica Gershman }
As the weather is warming up, we are thinking about pool parties and cookouts. I love hosting summer events at my house and with so many things going on, I love to prepare as much as I can in advance. When entertaining I find not having to be on call as a bartender while hosting and cooking is a huge energy saver. I love preparing a big batch of Sangria and letting the guests help themselves. This recipe for Sangria can be made with either white or red wine and can be adjusted to use a variety of fruits. Tip: you can make this Sangria in advance but avoid putting the carbonated water in just before serving!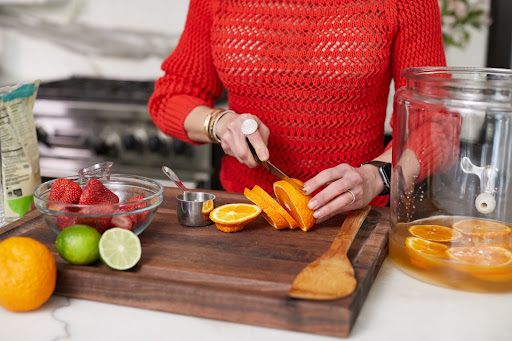 Happy Summer
Makes 6 servings
Ingredients:
3 medium oranges, halved
1 lime cut into wedges
1 cup hulled and thinly sliced strawberries (plus more whole strawberries for garnish)
2 ounces Grand Marnier
1 bottle of dry white wine like Ferrari Carano Fume Blanc
⅔ cup of organic cane sugar
2 cups of club soda
Garnish with strawberries
Directions:
Squeeze the juice of two oranges into the pitcher and slice the remaining orange into thin slices being careful to remove any seeds and place them in the pitcher. Juice the limes and then add to the pitcher.
Add the strawberries, Grand Marnier, wine, and sugar and pour them all together, stirring until the sugar is mostly dissolved. For the best flavor, let the sangria sit for several hours or overnight. If you don't have time to chill, replace the sugar with simple syrup.
Before serving, add the club soda. Serve in glasses over ice.
Simple Syrup
⅔ cup of organic cane sugar
⅔ cup of water
Directions:
In a small saucepan, combine the sugar and water. Warm the mixture over high heat, stirring often, until the sugar dissolves. Allow to cool before using.
If made ahead, can be stored in an airtight container in the refrigerator for up to 1 month
---