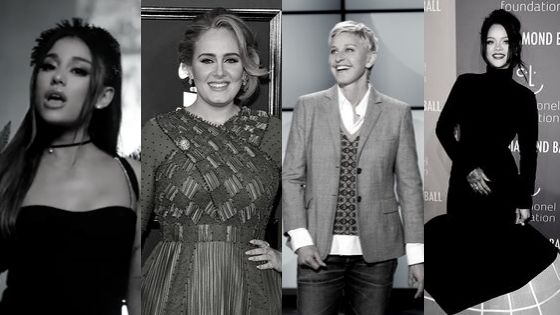 Pop Culture Recap – September 9 – 13
Ariana Grande, Miley Cyrus, & Lana Del Rey Release "Don't Call Me Angel" Music Video
Ariana Grande has teamed up with Miley Cyrus and Lana Del Rey for "Don't Call Me Angel" a track on the soundtrack for the upcoming Charlie's Angels reboot. Grande is co-producing the soundtrack which is set for release November 1 from Republic. Read more here.
Adele Officially Files for Divorce From Simon Konecki
Adele, who announced her separation from husband Simon Konecki in April, officially filed for divorce this week. Adele has a 7 year-old-son Angelo with Konecki and has stated they are dedicated to co-parenting him together. It is rumored that Adele has been working on new music and a new album could be coming this December. Read more here.
Shawn Mendes & Camila Cabello Post Awkward Kissing Video
Shawn Mendes posted a video to Instagram of him and his rumored girlfriend Camila Cabello engaging in a fake awkward kiss in response to their MTV Video Music Awards performance that didn't end in a liplock as viewers anticipated. The post has since gone viral and getting lots of attention from the pair's followers as well as their celebrity friends. Read more here.
Rihanna Throws 5th Annual 2019 Diamond Ball During NYFW
This week, Rihanna hosted her 5th Annual Diamond Ball gala, a fundraiser that supports Clara Lionel Foundation, a charity she founded in 2012 that supports education, health and emergency response programs globally. The gala was attended by many celebrities, including Cardi B, Normani, and A$AP Rocky with live performances from Rihanna herself, Pharrell, and DJ Khalid. Read more here.
Ellen DeGeneres Reveals She Dated Brad Pitt's Ex-Girlfriend
This week on The Ellen DeGeneres Show, Ellen revealed she once dated one of Brad Pitt's ex-girlfriends without naming names. Ellen met Brad Pitt at a pool party in the late '80s or early '90s. Pitt recounted in the interview Ellen flirted with his girlfriend at the time. Read more here.
Anything we missed? Let us know what you're talking about this week in the comments below!