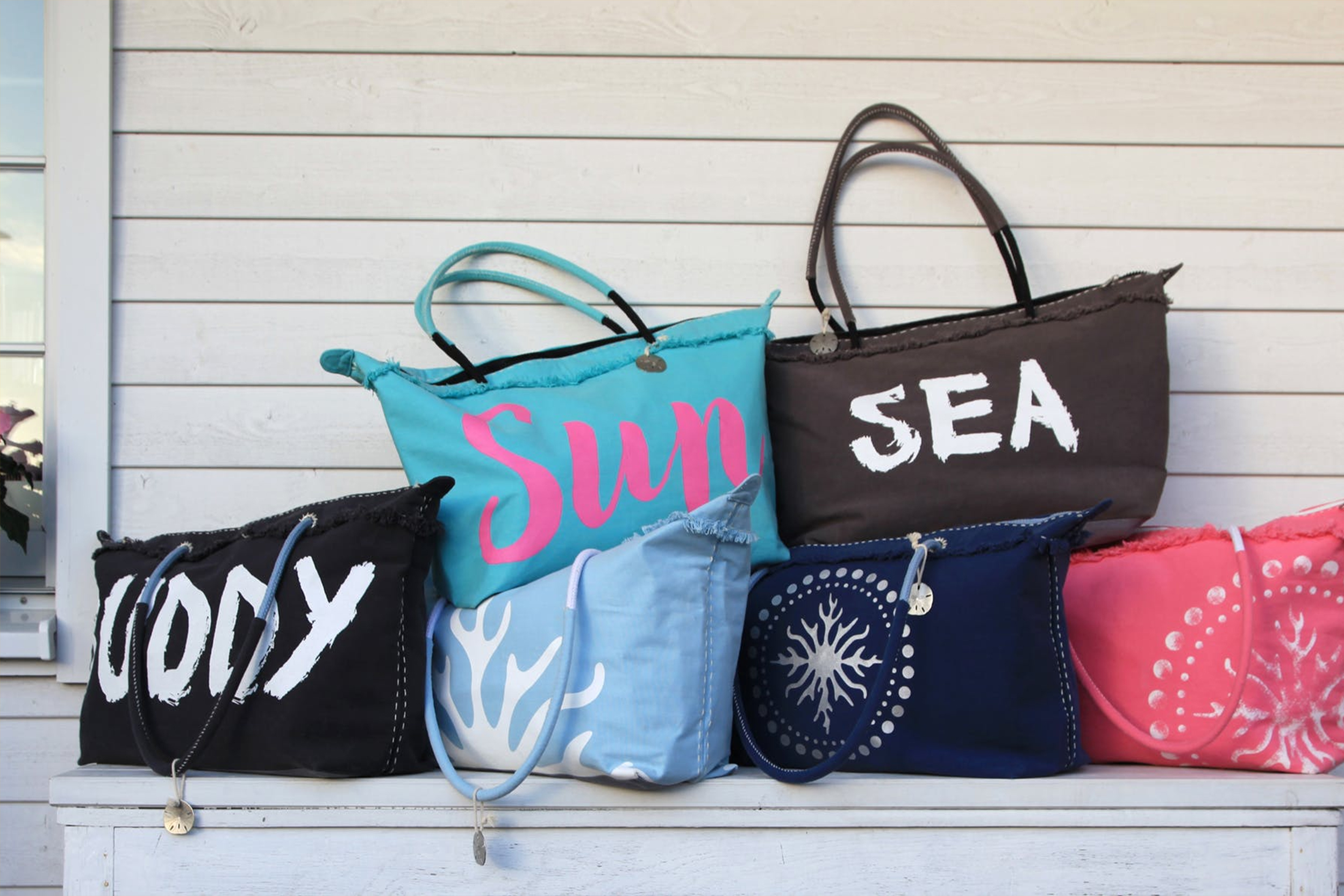 Top 10 Summer Bag Essentials by Alexandra Hickman
Beach season is among us and just like our wardrobes, our purses need a revamp for the summer. Before you get to the beach, stick your toes in the sand and sip a glass of Rosé its important to make sure you have all of the essential
ONE: The perfect bag!

You first need to pick a fabulous bag to put all of your essentials in. It's summertime so don't be afraid to pick bold prints and textures that you wouldn't always use in other seasons. Bags like this fromTJ Maxxare super fun, or this one fromOld Navy. These bags will change your look in seconds.
TWO: Sunscreen!

We all have been through the phase where we lathered ourselves in baby oil not worried about anything but a good tan to go out that night in. But as we've matured we really see the benefits of using sunscreen daily. To make sure that you never forget to use it always have it in your bag!
THREE: Sunglasses

Protecting your eyes is a must! And of course there is always a stylish, trendy way to do so. See our previousSunglass Trendblog post to see our picks for this summer's sunglasses.
FOUR: Lip balm

Protection just doesn't stop at the skin and eyes, many of us forget to protect our lips from the sun. This product is a two in one,  we get moisturizing benefits and also sun protection. So break out that lip balm and use it
FIVE: Eco conscious water bottle

Staying hydrated is a must! Instead of buying a water bottle daily, be a little more eco-friendly and buy a reusable one. Not only will this benefit your body (especially your skin) it will benefit the environment. Think green! You can get these just about anywhere, some of my favorites are fromIKEAorYeti.
SIX: Flip Flops

The days of snow boots and bulky rain boots are now in our past and we will not have to revisit them for a few months, thankfully. Get a pedicure and slip on the perfect pair of flip flops.Old Navyoffers endless amount of colors for a great price.
SEVEN: Water Resistant Cell Phone Case

It happens, you drop your phone in the sand or a little splash of water lands directly on your phone we have all been there plenty of time. Prevent that by bringing a water resistant case to put everything that you need to bring but want to keep safe. You can get these atBed Bath & Beyondor evenAmazon!
EIGHT: Sarong

A sarong is the perfect beach cover up you can take them on and off in seconds, and are a very simple way to style up your bikini or even cover yourself up a little. They're great for when you're on the go, they fold on in your bag easily and take very small amount of space.Nordstromoffers a variety of different sarongs and other cute beach cover ups.
NINE: Snacks

Snacks are very important! Because who doesn't get hungry after a long, hot summer day? It's always smart to keep some easy snacks like granola bars, fruit snacks, pretzels, and some fresh fruit. Everyone sitting around you will thank you for this.Chewysare great for kids,KINDbars are great for adults and fruit is great for everyone!
TEN: A good book or magazine!
Now that you have all your essentials in your chic new beach bag, your toes are in the sand, and your Rosé is in your hand- sit back, relax and get lost in that book you've been waiting to read or even indulge in any lifestyle magazine that suits you! Sit back, relax and enjoy this beautiful weather.
By: Alexandra Hickman