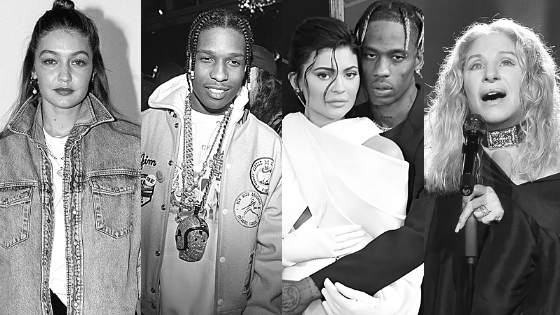 This Week in Pop Culture: August 5 – 9
Gigi Hadid & Tyler C – Hannah B Bachelorette Drama
The Bachelorette contestant Tyler C was spotted on a date night in NYC with supermodel Gigi Hadid after we can only assume him he slid in her "DMs" after the famous model followed him on Instagram. And what about Hannah B? She is less than impressed. Read more here.
A$AP Rocky Returns to the US following Trump Tweet
Rapper A$AP Rocky was released from Swedish custody this week following President Trump's tweet in his support. The judge allowed Rocky and his co-defenders to remain free while their assault trial is awaiting verdict within the next two weeks. Read more here.
Travis Scott Spoils Kylie Jenner With Birthday Suprise
Kylie Jenner's baby daddy Travis Scott covered her mansions foyer with red rose petals in anticipation of her 22nd birthday on Saturday. Kylie's squad of friends and family will join her on a $250 million yacht in Italy to celebrate. Read more here.
Toni Morrison passed away at 88
Toni Morrison, Nobel Prize Winner and critically-acclaimed African American writer, passed away this Tuesday at 88. Oprah, President Obama, and more mourn her death and celebrate her contributions to black literature. Read more here.
Ariana Grande Joins Barbra Streisand For Duet
Legendary singer Barbra Streisand brought out special guest pop sensation Ariana Grande to duet with her at her concert in Chicago Tuesday night. Grande was brought to tears after performing with her longtime role model. Read more here.
Brody Jenner & Kaitlynn Carter Split
Brody Jenner of The Hills fame splits with wife Kaitlynn Carter, also starring on The Hills reboot. The pair's wedding took place in June of last year, but apparently, the two were never legally married. Fans of The Hills reboot are not surprised by the split, as the show revealed their apparent relationship issues. Read more here.
Victoria's Secret Cancels Famous Runway Show & Hires First Transgender Model
Following criticism the last Victoria's Secret Runway Show lacked diversity and inclusivity, the brand announced the show will no longer be televised, but it is unclear if this means they are altering the show. It was also revealed the brand hired their first transgender model Valentina Sampaio to shoot for their VS Pink line, a big step for the brand that has made controversial remarks in the past about casting. Read more here.
Anything we missed? Let us know what you're talking about this week in the comments below!