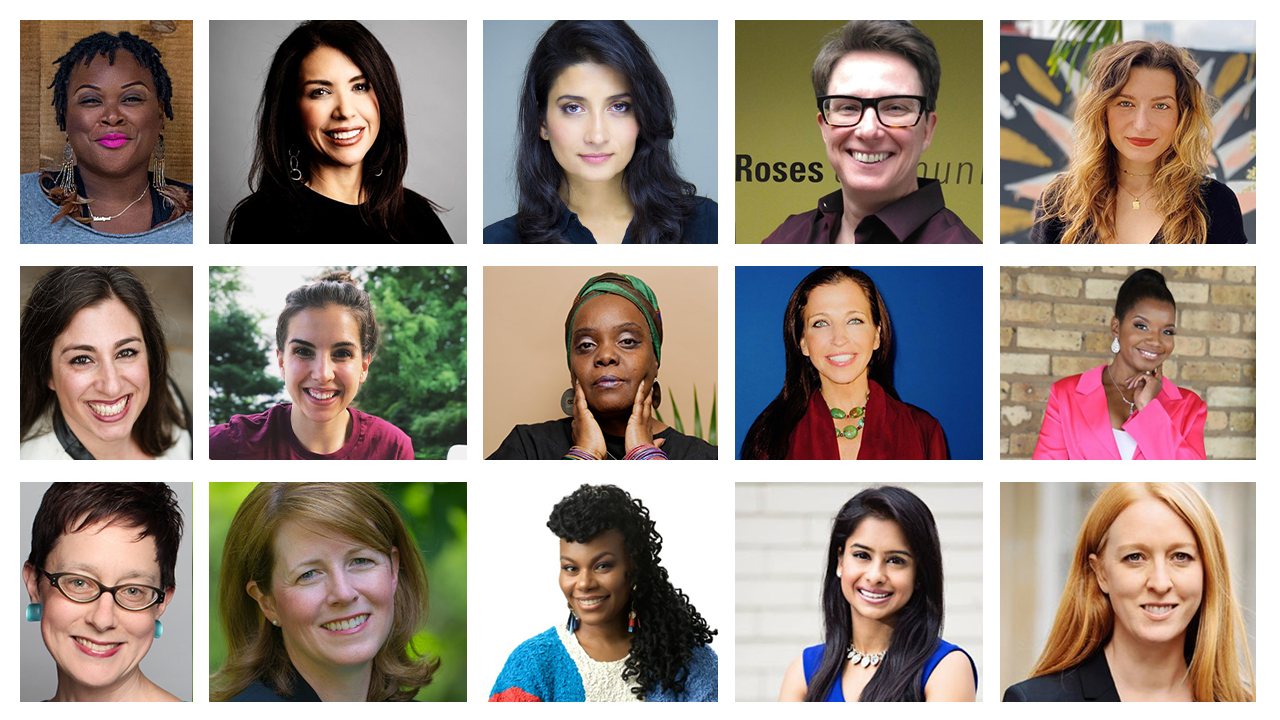 100 Remarkable Humanitarians
REMARKABLE: re·mark·a·ble – adjective – definition: "worthy of attention"
We are committed to sharing the stories of REMARKABLE WOMEN with our international audience. Each month we focus on a unique industry, segment or group of women who are truly making a national or international impact.
This month, thanks to the suggestions from our diverse and talented THIS IS IT NETWORK Advisory Board, we are sharing our 100 Remarkable Female Humanitarians.
Our goals is to connect our global community of engaged viewers to inspiring stories from remarkable women. Please take a moment to review our list and #followher!
We are always looking for more remarkable women to highlight and promote. For more information on our upcoming lists and all things THIS IS IT NETWORK email tv@i-gcreative.com #screamyourdream
Abby Wambach
Soccer Player, Author
https://abbywambach.com
Alessia Minkus
CEO, Industry Rockstar
https://kaneandalessia.com/
Aleta Clark aka Englewood Barbie
Founder of Hugs no Slugs
https://www.hugsnoslugs.com/
Alexandria Ocasio- Cortez
US Representative from New York
https://ocasio-cortez.h
Alicia Garza
Co-Founder
Black Lives Matters
https://aliciagarza.com
Amanda Arrington
Executive Director: Beyond Fences
https://beyondfences.org/
Amanda Groman
Author and Poet
https://www.theamandagorman.com
Amanda Kloots
Host on "The Talk"
https://amandakloots.com
Ana Marie Rizzieri
Makeup Artist: The Wall Group
www.rizzieri.com
Angelia Perry
Executive Director: Gifford Youth Achievement Center
https://www.gyac.net/
Ann Cody
Program Officer: International Disability Rights at US State Department
https://ifapa.net/ada-30-years-ann-cody/
April Powell
Founder: Design Collective 207
https://www.dcollective207.com
Austin Channing Brown
Novelist and Activist
http://austinchanning.com
Beth Fairchild
Metavivor
https://www.instagram.com/bethfairchild/?hl=en
Betty Friedan
Feminist Writer, Activist& a Founder- National Organization for Women
https://now.org/
Brene Brown
Author and Researcher
https://brenebrown.com
Brigitte Castaing Addimando
Board Member: Playworks
https://www.playworks.org
Britt Bolnick
Founder: Pittie Posse Rescue and Sanctuary
http://pittieposse.com/
www.InArmsCoaching.com
Carol Kirkpatrick
CEO: Aria Ready
https://ariaready.net/
Casey Cook
Executive Director: Bread & Roses Community Fund
https://breadrosesfund.org/
Cass Bailey
President & CEO: Slice Communications
http://www.treehousebooks.org/our-advisory-board
Cat
Artist: Cup of Creative
https://www.instagram.com/cupofcreative.co/?hl=en
Charesse Ford
Author & Educator
https://www.reeceebooks.com/
Chelsea Handler
Comedian, Author, Human Rights Activist
https://www.chelseahandler.com/
Christa Preston
Executive Director: Embrace Kulture
https://www.embracekulture.org/
Cindy Sadler
Founder and Executive Director: Spotlight on Opera
https://cindysadler.com/
Claire Laver
Executive Director: Make the World Better Foundation
https://www.mtwb.org
Colleen Howard
Executive Director: PA Girls on the Run
https://www.gotrphiladelphia.org
Cydeny Long
Award Winning Journalist: NBC10
https://www.nbcphiladelphia.com/author/cydney-long-2/
Dafna Yachin
Filmmaker, Director, Board member PWIFT
https://pwift.org/board-of-directors/
Deni Carise, PhD
Chief Science Office: Recovery Centers of America
https://recoverycentersofamerica.com/about/leadership/deni-carise/
Diana Mao
President & Co- Founder: Nomi Network
https://nominetwork.org/
Diana Polak
Founder & Chief Change Officer: Artware for Good
https://www.artwareforgood.com
Dr. Bindiya Gandhi, M.D
Integrative & Functional Doctor: Revive Atl
www.drbindiyamd.com
Dr. Erica L. Ball
Department Chair: Black Studies at Occidental College
https://www.oxy.edu/
Dr. Jen Welter
Author, Speaker& First Female Football
ttps://www.jenwelter.com/
Dr. Khadija Douglas
Founder: Infinite Wellness
https://myinfinitewellness.net/
Ellen Agler
CEO: The Audacious Project
https://audaciousproject.org/ideas/2019/the-end-fund
Ericka Hart
Racial/Socail/Gender Justice Disruptor
https://www.instagram.com/ihartericka/


Estella Pyfrom
CEO: Estella's Brilliant BUS
http://estellasbrilliantbus.org/our-ceo/
Eva Longoria
Founder: Evas Heroes
https://evasheroes.org
Glennon Doyle
Author & Activist
https://togetherrising.org/give/
Gloria Walton
CEO: The Solutions Project
https://thesolutionsproject.org/
Hakima Abbas
Co-Executive Director: The Association for Women's Rught in Development
https://www.awid.org/
Ingrid Silva
Founder: Empowher_NY
https://www.instagram.com/ingridsilva/?hl=en
Jamie Kern Lima
Founder: IT Cosmetics
Itcosmetics.com
Jamila Trimuel
Founder: Ladies Virtue
https://www.lovchicago.org/
Jasmine and Marissa
Founders: For the Breast of Us
https://www.instagram.com/forthebreastofus/?hl=en
Jen Psaki
Press Secretary
United States of America
https://twitter.com/PressSec
Jessica Minhas
Founder: I'll Go First
https://www.illgofirst.com/
Dr. Jill Biden
First Lady
United States of America
https://www.whitehouse.gov/administration/dr-jill-biden/
Joy Sutton
Communication Strategist: The Joy Sutton Show
https://thejoysutton.com/podcast
Judith Martinez
Founder: In Her Shoes
https://www.inhershoesmvmt.org/our-story
Jules Bonasera
Creator: Conscious Conversations
www.consciousconversations.com
Julie Cane
Corporate Director of Marketing & Community Relations: Gaudin Motor Company
https://gaudinmotorcompany.com/partners/
Kamala Harris
Vice President
United States of America
https://www.whitehouse.gov/administration/vice-president-harris/
Kassandra Frederique
Executive Director: Drug Policy Alliance
https://drugpolicy.org/kassandra-frederique
Kathleen A. Sherwin
CEO & COO: Women Deliver
https://womendeliver.org/
Katie
Educator & Activist
https://linktr.ee/teachingontables
Lia Valencia Key
Creator: Valencia Key Design
www.valenciakey.com
Lolita Fraizer
Founder: Strut Talk
https://www.instagram.com/strut_talk/?hl=en
Lorelei Bandrovschi
Founder & CEO: Listen Bar
www.listenbar.com
Maimah Karmo
Founder & CEO: Tigerlily Foundation
https://www.instagram.com/tigerlily_foundation/
Majorie Margolies
President: Women's Campaign International
https://www.womenscampaigninternational.org/
Malala Yousafzai
Activist & Founder: Malala Fund
https://www.malala.org/
Manon De Reeper
Program Director: #Startwith8Hollywood
https://www.startwith8hollywood.com
Maria Victoria B. Lucio
President:Nationwide Organization of Visually Impaired Empowered Ladies Inc.
https://novelphils.wordpress.com/novel-as-an-organization/
Marta Vieira da Silva
UN Women Goodwill Ambassador: Women and Girls in Sport
https://www.unwomen.org/en/partnerships/goodwill-ambassadors/marta-vieira-da-silva
Meegan Denenberg
Co- Founder: Little Giant Creative
https://www.littlegiantcreative.com/about/
Melinda Gates
Philanthropist & Co-Founder: Bill & Melinda Gates Foundation
https://www.gatesfoundation.org
Melissa Weiler Gerber
President & CEO: AccessMatters
https://www.accessmatters.org
Mickey Wilder
Director of the Board President: CHD Coalition
https://chdcoalition.org
Mira Sorvino
Actress & Activist
https://www.instagram.com/mirasorvino/?hl=en
Mrs. Rashmi Misra
Founder: Vidya
https://vidya-india.org/about-us/who-we-are/
Ms. Ekhlas Ahmed
Vice President and Co-Founder: Chance to Advance
https://chancetoadvanceme.org
Nikole Hannah Jones
Journalist: The 1619 Project
http://nikolehannahjones.com
Nina Radetich
Interim CEO: Make A Wish
https://wish.org/snv/our-chapter#our-people-35026
Nitika Chopra
Founder: Chronicon & Chronic Illness Advocate
https://nitikachopra.com
Opal Tometi
Human Rights Activist, Writer, Strategist
https://www.opaltometi.org
Paige Wolf
Activist, PR Professional & Author
https://www.paigewolf.com/about/
Patrisse Cullors
Artist, Author, Educator, Organizer
https://patrissecullors.com
Parisha Smith
Co- Founder: The Positivity Charge
www.thepositivitycharge.com
Ramla Sahid
Executive Director: PANA
https://www.panasd.org/people/ramla
Rebeca Gyumi
Founder & Executive Director: Msichana Initiative
https://msichana.or.tz/
Rebecca Adamson
Activist & Founder: First Peoples Worldwide
https://www.colorado.edu/program/fpw/
Rebecca Katz
Founding Partner: New Deal Strategies
https://newdealstrategies.com
Ruby Kate Chitsey
CEO: Three Wishes
https://3wishes.global/who-we-are/temp-staff-board.html
Runa Alam
CEO: Development Partners International
https://care.org
Rushia Brown
LA Sparks Director of Community Relations
https://www.rushiabrown.com/
Sarain Fox
Indigenous Activist, Motivational Speaker, & Artist
https://www.sarainfox.com
Shay Sharpe
Founder: Shay Sharpe's Pink Wishes
https://www.instagram.com/shaysharpespinkwishes/?hl=en
Sheri Lewis
Executive Director: Melt Magazine
http://www.meltmagazinechi.com/
Shipa Patel, Jennifer Sabile, Andrea Love
Founders: A Very Good Deed
https://averygooddeed.org
Sister Kathleen Coll
CEO: Dawn's Place
https://www.ahomefordawn.org/
Stacy Ostrau
South Florida Philanthropist & Activist
https://www.linkedin.com/in/stacyostrau/
Stephanie Garoian Ayanian
Producer & Director
https://whatwillbecomeofus.com/
Susan Shea
President: Dancing with Students
https://www.dancingwiththestudents.org
Susan Weldon
Founder
Unite For Her
https://uniteforher.org
Tonya Allen
President: The Skillman Foundation
https://www.skillman.org/
Vashti DuBois
Executive Director & Owner The Colored Girls Museum
http://www.thecoloredgirlsmuseum.com/
Veronica Very
Founder & President: Wonder of Women International
https://www.thewonderofwomen.org/
Vivian Sun
Program Manager: Global Grants Operation
https://www.linkedin.com/in/vivianiwensun/
Wendy Diamond
CEO & Founder: Women's Entrepreneurship Day (WED)
https://www.womenseday.org/team_member/wendy-diamond/
Yvette Dapremont Bright
President: Brighter Horizon
https://brighterhorizonfoundation.org/our-leadership/
Again, we are always looking for more remarkable women to highlight and promote. For more information on our upcoming lists and all things THIS IS IT NETWORK email tv@i-gcreative.com #screamyourdream
SPECIAL THANKS – Erin McGovern, Production Coordinator