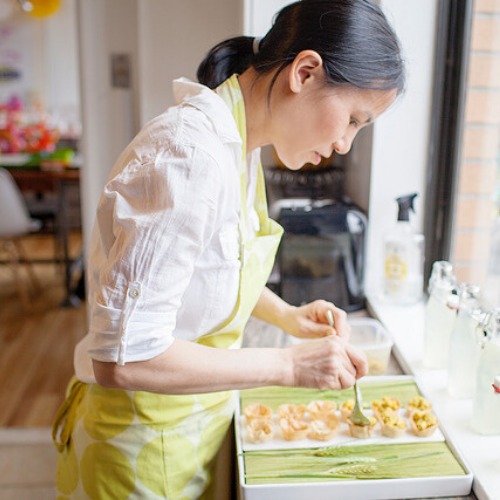 The Cocktail Party Chef
Chef/owner Karen Ferries-Yoon's background includes growing up in the gastronomic capital of Brussels, Belgium, where her mom instilled an infectious love of cooking in her. A career in the food industry was inevitable. Her most impressionable work experience was starting off as a bottom-rung cook making hors d'oeuvres at Chef Daniel Boulud's flagship restaurant, Daniel, in New York City for their catering division.
Selections from the Premium, Choice and Drop off menus capture the modern palate that craves familiar foods with mainstream flavors during cocktail hour.
The signature look of The Cocktail Party Chef are its beautiful food presentations for the Choice and Premium Menus. Every set of platters are customized and decorated specifically for the occasion (40th birthday party, holiday party, wedding, or baby shower), client, and aesthetic of the party space, whether it's in your home or at a venue.
For more information on #TheCocktailChef and to connect with Karen Ferries log onto cocktailpartychef.com